Happy Rafting Tours
Find your next adventure
Happy Raft has been operating since 2004 on the Yoshino River in Shikoku (Tokushima and Kochi), the most intense river in Japan.
There are four main types of activities that can be experienced.
Rafting – Canyoning – Packrafting (in customised tours) – Trekking
The most popular activity, rafting, offers several tours to meet the various demands (age, intensity) of our customers.
Happy Raft also offers a 'canyoning' experience of large waterfalls of up to 40m using ropes, harnesses and other equipment!
Rafting and canyoning! If you're the adventurous type, then our combo tour is for you!
On our customised tours, you can experience the rapids more intensely than usual in a single-seater boat (packraft) or in a small raft boat!
Trekking is also available as part of the community development project.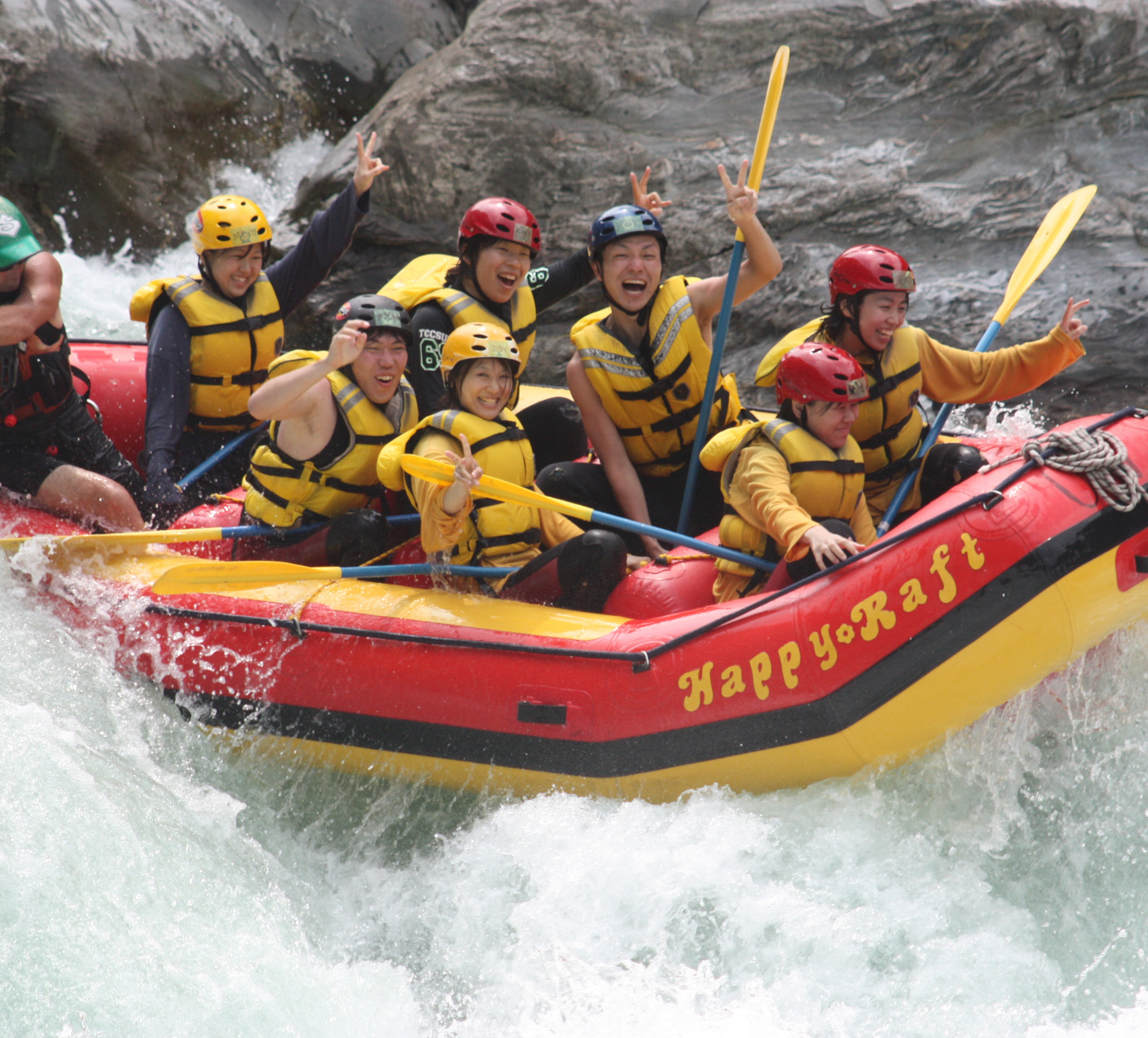 Rafting
Challenge Japans' best world-class rapids of the ""Yoshino River"" in Shikoku, rafting through amazing scenery>For more information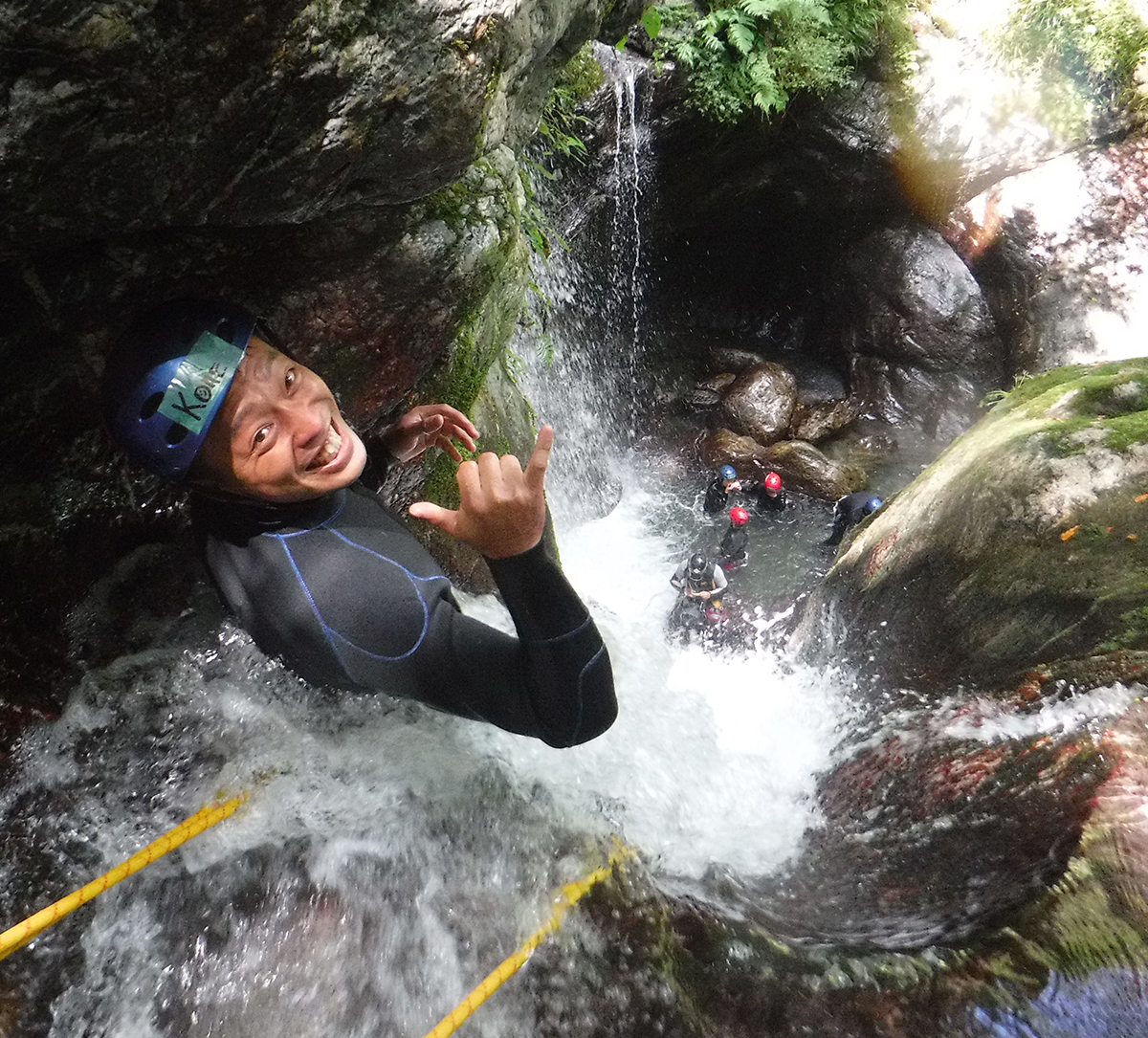 Canyoning
Jump,Slide,Fly down waterfalls in a canyon with just your body, a rope and harness ! Natural water slides. in a truly amazing place.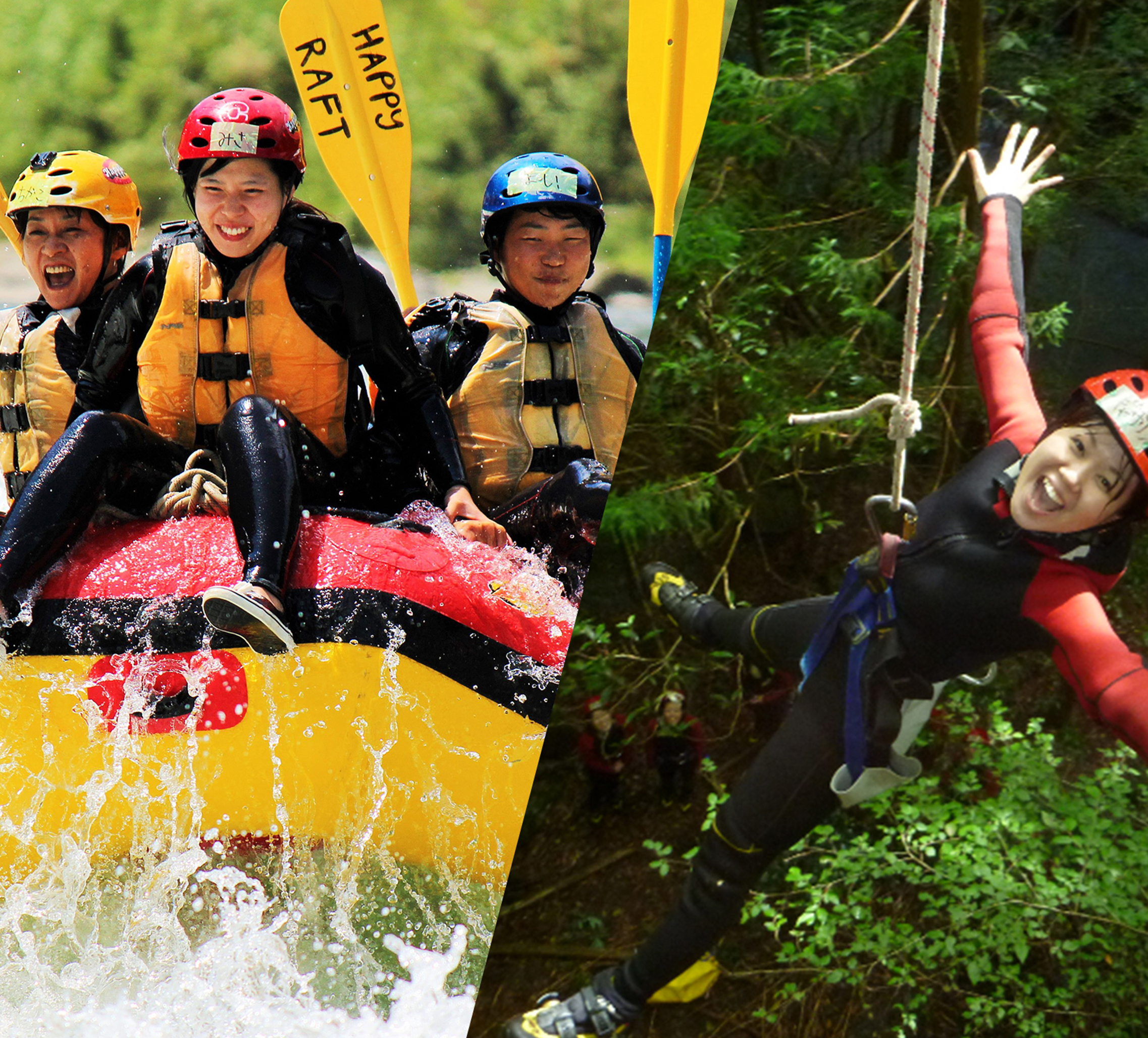 Packrafting
Try your hand at single-seater boating. If you're active, and like the idea of steering yourself down the rapids then packrafting is for you. Start with small rapids! Choose from our customised tours.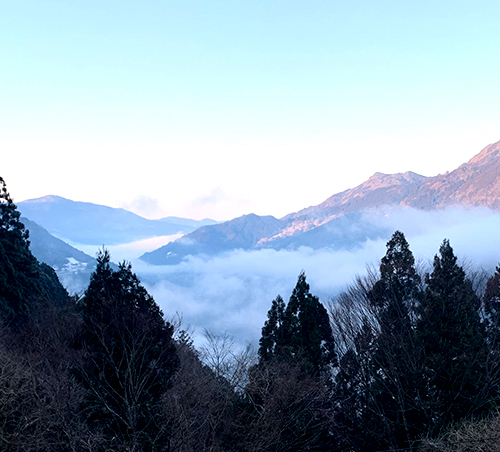 Trekking
Right on our doorstep is a great little trekking course that we have developed in conjunction with the local people.Winding through the local farms the course climbs up the Iwahara mountain offering great views of the valley and secret waterfalls and swimming spots. This is a hidden gem and guaranteed to get away from the crowds.
Happy Raftが選ばれる6つのポイント
About Happy Raft
Guides and staff
Experienced and friendly guides and staff who love the Yoshino river and living in Shikoku.

All of our guides are qualified to guide in Japan and abroad. Let our fun-loving friedly guides show you an amazing time on on of our amazing adventures. For more information, click here.
Wide variety of tours
Family tours for adults too / Canyoning

Gentle tours for famiies with little ones with participation from 3 years of age. Otonoyo Family Tour. Primary schools students can also have a real rapids experience... Ooboke Family Tour. For junior high school students and above, the most intense rapids in Japan (Tokushima Koboke Course). Koboke Long Tour experience! Don't miss Happy Raft's customised tours such as authentic canyoning and packraft tours where you can challenge the rapids in a one-person boat!
Homemade bagel lunch
Homemade bagels are addictively delicious♪

Homemade bagels baked in-house daily. Lunch on long tours and combo tours. All you can eat bagel sandwich lunch, with ham,tuna and salad spreads. YumYum! Come and try our bagels! Cafe inside the base.
Accommodation
Fantastic old farm houses nestled in the hills.

This guesthouse - an old farmhouse -is like a hideaway, tucked away up a mountain road surrounded by trees about 10 minutes from Happy Raft. The guesthouse is managed by HappyRaft staff, so we will do our best to ensure your stay is pleasant and comfortable. Currently available for private hire for one group. Please enjoy the quiet and peaceful place.
Clean and stylish facilities. A great place to relax.
HappyRaft is a beatuiful open space overlooking the Yoshino River.

In spring, the view of cherry blossom trees and the Yoshino River is beautiful. In summer, the open space with a refreshing breeze passing through the sparkling green mountains. Created by local people and staff -custom built as a place where guides and clients can relax together. Stick around after the tour, graba coffee or a cold drink, and enjoy the exotic atmosphere of the HappyRaft base. Easy parking right next to the base! One-minute walk from JR Tosa-Iwahara train station.
Repeater benefits
Tour discounts & points accumulation for special offers!

Show your membership card and get a discount on tours! Also, collect stamps for each tour. Get all sorts of benefits. When your regular member's card is full, you can get a Silver Card And the next one will be upgraded to Gold Card! You can get a present of tour photos and more! You can also get a tour photo as a present and other benefits. Now you can become a Happy Maniac too!
Enjoy your trip more!
Discover the best places to have fun in the neighbourhood♪