Happy Raft Staff
ハッピーラフトスタッフ
The Happy Raft Staff live in the mountains of Shikoku and love nature and the Yoshino River.
It's our job to provide clients with amazing adventures and experiences that exceed all expectations everyday
Our highly skilled and experienced guides always keep in mind that…
To play and have fun together with our guests in a safe and professional manner.
Let's make "the best time and memories" together!
Happy Safety tour
安全と安心のあるツアー
ハッピーラフトでは、
豊富な経験、資格を持ったガイドが皆様へ、
安全と安心のあるツアーを提供いたします。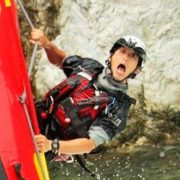 TERU
Experience: 21 years Nationality: Japan(Gero Onsen, Gifu)
He is the invincible HappyRaft boss who has been trusted immensely by the staff and customers of the Yoshino River. In 2017, he played an active role as the vice-chairman and safety director of the rafting world championship. A pioneer in the rafting and Kayaking industry in Japan he is the most respected river runner in Japan and has been largely responsible for raising the standards of rafting in Japan...He continues to evolve with HappyRaft. Yes, He is a bit of a Legend. Qualifications: RAJ Senior Guide and Instructor, NZRA Grade 4/5 Senior Guide, IRF Grade 4/5 Instructor Experience: Shotover River (NZ), Kawarau River (NZ), Rangitata River (NZ), Rangitiki River (NZ)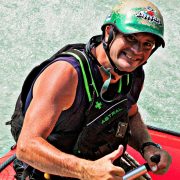 MARK
ガイド歴:25年 出身:オーストラリア
吉野川に惚れこんで大豊町岩原村に移住。村中をマウンテンバイクで爆走しながら、雲海の見える山の上に暮らしている。今ではもうこの岩原地区には絶対欠かせない人物。地元の皆さんとの絆もがっちり固い。マスコミにも多 く取り上げられている川業界では有名人。23シーズン5カ国以上のラフティング、カヤック経験を持つ。ハイウォーターの小歩危は「激流のやんちゃ坊主」の異名を持つマーク の大好物。でも細かいオモテナシもしっかりやるスゴイ人。にっぽんいちの激流を思いっきり体感したいなら、マークと一緒にLet's go to adventure! 経歴:タリ―川(AUS)・トムスン川(CAN)・利根川(JPN)・色々な川(NP)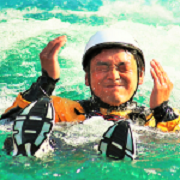 KOBU
Experience: 18 years Nationality: Japan(Hokkaido)
DOKKORASHO! He is a kind-hearted leader who has become indispensable to HappyRaft and the local community. He is the leader of HappyRaft and the local community, with bravado and solid work ethic! He's a Legend and a G.C.Leave it to Kobu-chan, and you'll be fine! Once you're hooked on the Kobu tour, you'll never want to leave! Skills: Surfing, kayaking, giving compliments Favorite: Meat, curry, hamburgers, rice balls, wild vegetables and HOT CHIPS Career: Kaituna River (NZ), Wairoa River (NZ), Rangitaiki River (NZ), Rangitata River (NZ)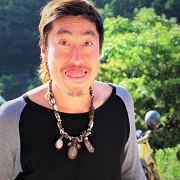 TAKA
Experience : 12 years Nationality:Japan(Kanagawa)
A man who has been all over the world. He used to guide on the Ganges River! Head of the HappyRaft Art Club. At the base of HappyRaft, there are photo frames and signs made by TAKA all over the place. He loves the water so much that he goes to the ocean whenever he can and plays with lots of creatures. Namaste! Specialties: Spear-fishing(superhuman level), crafts, fish pickling, lumberjack, saving money Career: Kaituna River (NZ), Rangitaiki River (NZ), Shotover River (NZ), Kawarau River (NZ), Ganga River (IN), Alaknanda River (IN), Bagrati River (IN), Seti River (NP), Thamur River (NP) Turisuli River (NP)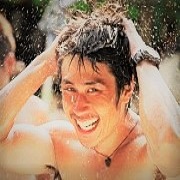 SHINJI
Experience: 11 years Nationality: Japan(Shizuoka)
He is an outstanding talent who came from the foot of the world heritage Mt.Fuji. He is the dumbest guy in Japan and has a saga that proves he is as stupid as Fujiyama. He is currently applying for the Human World Heritage. He is currently in the process of applying for Human World Heritage status. After returning from rafting training in Rangitata River, South Island, New Zealand, he is now struggling in the rapids of Koboke. In winter, I work as a shrimp fisherman and a yorozuya in my hometown. Please support me. Weaknesses: Eating quietly Skills: Serving Fujinomiya yakisoba and sakura-ebi Wise words: "Injury = power up
AMIGO
Experience: 14 years Nationality: Japan(Hyogo)
Ami-chan, the idol of HappyRaft, is a mischievous girl who is loved by everyone. She is the most pure-hearted girl in HappyRaft. She is one of the most experienced and skilled female guides in Japan. This year, however, she is taking a break from guiding due to the birth of her first child. I'm going to do my best as a mother. Favorite food: Grilled meat, cake (sweets are welcome), Experience: Turisuli River (NP), Seti River (NP), Otra River (NO), Mendoza River (AR), Southfolk American River (USA), Middlefolk American River (USA), Shotover River (NZ), Kawarau River (NZ), Rangitata River (NZ) ,Tampaon River (MX), the Pacuware River (CR), and many more! There is no other Japanese female guide with this much experience!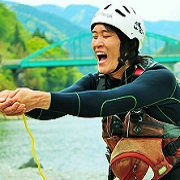 HIRO
Experience: 12years Nationality: Japan(Hokkaido)
He has been a member of HappyRaft since 2015. He can be a bit silly, but he is a very nice guy. He's a true native of Hokkaido, and when he puts on his skis, he's on another level! Don't miss the jump from the big rock during the tour! His athleticism is unbelievable. I love party, and I love to do funny things! I may be young, but I'm experienced! I'm also confident in my scalp and beautiful legs! I'm expecting a cute baby in 2021! I'm working hard as a father. Favorite food: Japanese food, steamed meat buns, Dorayaki, high water Koboke, additive-free, skills: skiing, skateboarding, table tennis, exercise in general.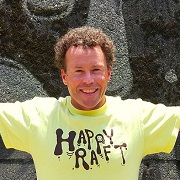 MARK H
Experience: 23years Nationality: New Zealand
Yes! iine~! We can! His voice is so sexy! In addition to rivers, he loves surfing and backcountry skiing, and loves Japanese nature! In winter, he works as a ski instructor in Niseko. I love Hiroshima-style okonomiyaki and have lived in Japan for a long time. But he doesn't like natto and umeboshi.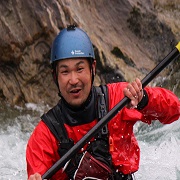 KASSY
Experience: 23years Nationality:Japan(kagawa)
Serious, quiet, polite, and a good-looking fighter. He learned Muay Thai and Jiu Jitsu in Thailand, and now he teaches kickboxing mainly to Happy Girls! We're looking for people to join! He has an invisible fighting spirit that burns brightly. The DIY house, which is almost completely visible from the outside, is filled with sandbags and weapons. He has a body that is actually amazing when He takes it off. I'm also good at massages (basically, a little stronger)! He can be a bit shy and unpredictable, but he's always happy to talk to you. Favorite: Sanuki udon noodles (but I hear he doesn't eat them very often), pickled ginger (I'm helping out at a nearby farm, so I'll take it) Career: Tully River (AUS), Barron River (AUS), Spain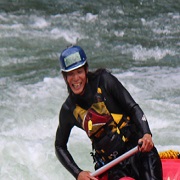 ARICHAKO
Experience: 9years Nationality:Japan(Nagano)
I've been guiding for 9 years and I'm from Nagano. I used to be "Tatami" rider like Aladdin on the Yoshino River! I'm all about Yoshino River! I love the Yoshino River! Oh yeah! He's clumsy, silly, and has super long hair, but he's the most pure and kind-hearted boy in Nagano. Sometimes praise puts him in a good mood, and he works hard. Ask him about the origin of his mysterious nickname. (Please understand that I may disappoint you.) Hobbies: Cutting pictures, fantasies, Carolina Leopard.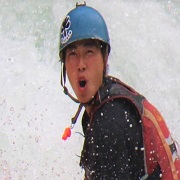 NEN
Experience: 4 years Nationality:Japan(Kyoto)
The kanji in my name is "nature"! He grew up in the great outdoors of Kyoto, living a self-sufficient life, and after getting a good beating on the Fuji River, I'm now a full-fledged guide and kayaker on the Yoshino River! He is a young fireman-like man who is loved (and teased) by everyone with his friendly character. I've also started snowboarding in the winter of 2020. Also play "NENTUBE" once in a while (once in a while is fine.) I'm not very good at speaking well, and I don't like salmon eggs.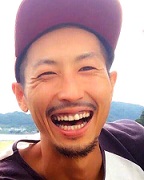 TARO
Experience: 16 years Nationality: Japan(Kagawa)
Oh? The big thin tree is moving,Nah, It's Tarou-chan! He's a laid-back café owner who runs a very chic café called High five coffee in Kagawa, and he's also a full-fledged guide! I've been down many rivers in Japan, including the Tone River and the Arakawa River. He is a smiling and energetic DJ who does whatever he wants, whenever he wants! This is Tarou-chan. He's a happy-go-lucky DJ with a smile on his face. Hobbies: Rapping, hot springs, snowboarding without leaving the store, Motto: I'm afraid of things I've never eaten.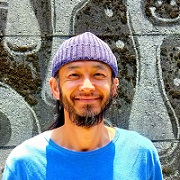 DAI
Experience:1 year Nationality: Japan(kagawa)
His gentle smile is just like his partner, Sun-chan (a dog). He has been working in the plumbing and construction industry for a long time, and has been appointed as a janitor at HappyRaft. I'm going to do my best in spite of all this!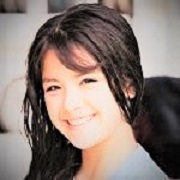 ELLIE
Experience: 2years Nationality: Japan and AUS (Ootoyo)
She has more experience as a lunch girl than anyone else and is an idol of HappyRaft. As soon as she heard the music, she started dancing, burning with the spirit of a dancer and the spirit of a party.She also does rafting! Her athleticism and cleverness are the best of bunch. Hobbies: Dancing in general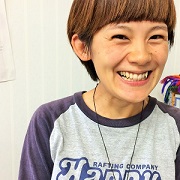 KANA
Nationality: Japan(Tokushima)
KANA has a cute, talented appearance and a friendly personality that makes HappyRaft happy. She is also the wife of the boss behind the scenes of HappyRaft! She used to be a nurse, and she never missed out on the jinx of having a baby when she worked at HappyRaft, and found out she was pregnant within two weeks of starting. Her son, Hiroto, is already in the third grade, and her daughter, Akari, is also very cute and shy.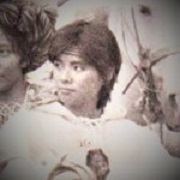 SACHI
出身:東京
マークの奥さん。その小さな体から湧き出すパワーに敬礼!東京都内の某お嬢様学校を卒業。しかしその反動からか、バイクでアメリカ大陸1周したりしているうちにこの世界に落ち着いてしまった。出版関係の仕事をしていたことから、あちらの業界にも繋がりをもつ謎多き女性。スタッフの要望にはいち早く答えてくれるスーパーウーマン。 特技:馬術(全日本学生大会)・料理&家事全般・人のお世話・どんな状況でも速攻で対応 趣味:最新家電機器のチェック・最新アプリのチェック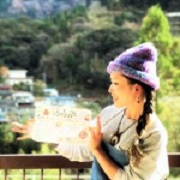 NANA
Nationality:Tosa
She is an artistic Hachikin who does everything from reception to kitchen, photographer to designer. At first impression, she may seem difficult to get to know, but she is really a kind-hearted girl who loves her grandma and grandpa. Many of the colorful objects and the giant mural logo at HappyRaft are her creations. She is the vice president of the HappyRaft Art Club, and loves Iwahara Village in Kochi with her whole family. Skills: Yosakoi, hair cutting, high-pressure washer art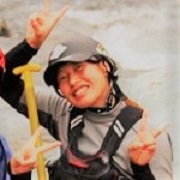 YURI
Nationality: Japan(Tottori)
Always having fun no matter what she's doing! Yuri's youthful smile and enthusiasm for everything she does is unbelievable! In 2016, she joined the women's rafting race team "River Face," and in 2017, she won the world championship at the Yoshino River World Championships! That's amazing, Yuri-chan! She is also a fan of the rapidly improving Yuri rice among the staff. Please come eat with us soon! But she hasn't invited me yet. She always said " Do you want some snacks?" Special skills: diving (into the Yoshino River⁉), laughing continuously, eating continuously, Instagram Dislikes: Bugs! Insects! Insects! (It took me two hours to kill a centipede...)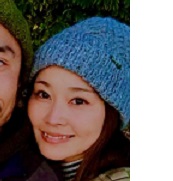 YUKI
Nationality: Japan(Fuji)
No matter how outlandish or mysterious things may seem, Yukiko can handle it. She is a woman with an unparalleled ability to cope with the world heritage Mt. Fuji. She loves dogs so much that she often loses sight of herself and her surroundings when it comes to dogs, and she quickly recharges her batteries by watching dog videos and photos when her HP is low. She loves a dog and a cat. Hobbies: Dieting, eating sweets at a coffee shop, specialties: electronics comedian, nostalgic music DJ, portrait drawing.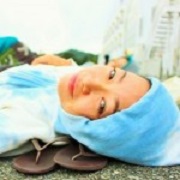 KOTTY
Nationality:Japan(Tokyo)
I was born in the wrong country! I'm KOTTY from Tokyo,Japan, and I've been working in a remote office with my son who has great SMILE. Likes: chocolate mint, sunshine, and protein Dislikes: driving a car Skills: making traffic jams Hobbies: Exploring, tanning,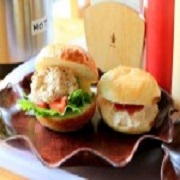 SAYO
Nationality:Japan(Kochi)
Her real name is Sayoko, which is very cute. She is very shy and hides when customers are around, making her a rare character that you can't see. If by some miracle you meet her, please say to her, "bagels were so delicious! Skills: Making the world's fastest bagels, Tai Chi. Dislikes: Being in front of people, meat, fish.