Two types of family rafting tours!
Choose the tour depending on the age of your children and the intensity you want. Our Family rafting tour was voted Japan's best family tour in 2022. Its a fantastic trip for families.
Otoyo Family Rafting Tour
For groups with pre-school children aged 3 years (13 kg) and over.

A 5-kilometre section of the Yoshino River, one of the most gentle rapids on the river, where you can play and enjoy yourself in a relaxed and leisurely manner. Includes five small rapids and is recommended for small children making their rafting debut!
Oboke Family Rafting Tour
For groups with primary schools children

Only Happy Rafting can offer you a real rafting tour on the same course as the Oboke Short Tour! Take on the rapids with the whole family! We really recommend this one if your kids are big enough.
Oboke Family Rafting Tour
For groups with primary schools children
Recommendations for the tour!
Oboke Family Rafting Tour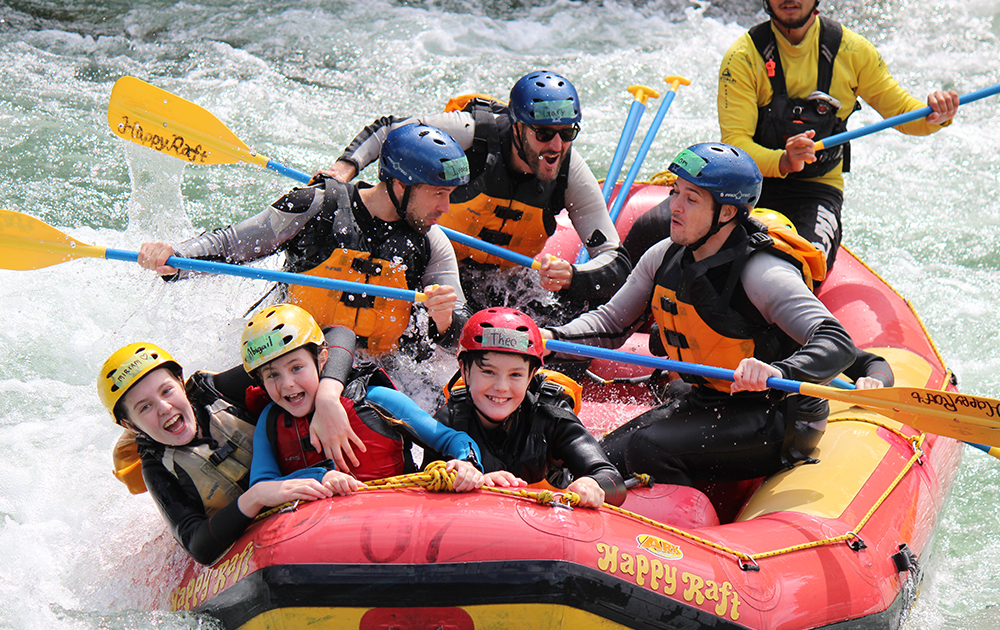 Authentic tour for primary schools students and up.
This Oboke Family Tour is a rafting tour on the same course as the Oboke Short Tour for junior high school students and above.
This family rafting tour is a real rafting experience for active primary schools kids!
Adults with primary schools kids can also enjoy the authentic rafting experience by separating the boats from the Oboke Short Tour guests and changing the way of descending the rapids.
Introduction to the Oboke Family Tour Course
The Oboke Family Tour process includes four big rapids and a total of ten smaller rapids.
Not only the rapids, but also body rafting in calm areas and diving from the big rocks (optional).
Diving from the big rocks (free participation) and many other events just like the Oboke Short Tour!
Click here for the tour flow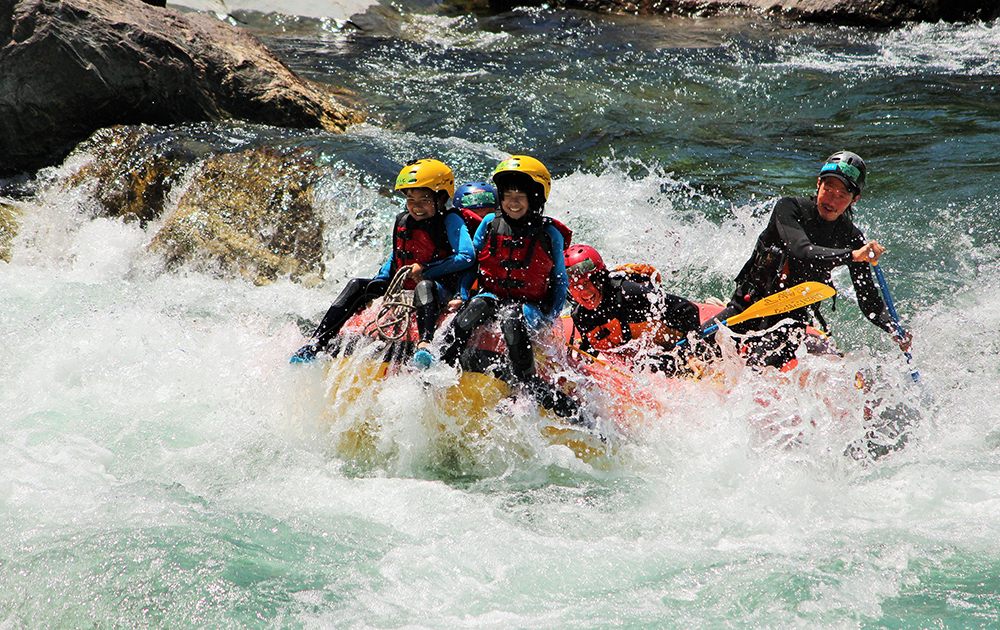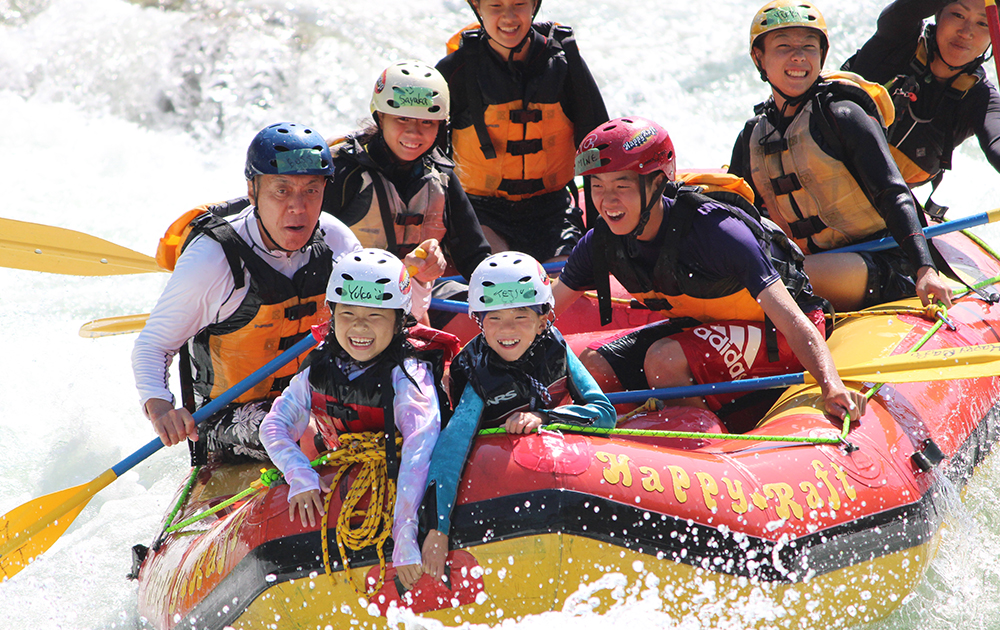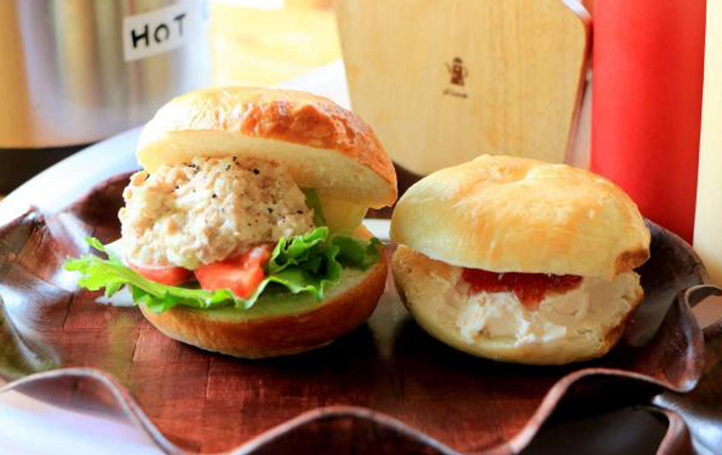 Differences from other companies.
The goal location is under the base of Happy Raft. Once ashore, everyone goes on a mini-trek on the way back. At the end, you return to the base on your own. (It takes about one minute.) Less travel time on the way back than with other companies, so you get to play a lot more on the river!
Before and after the tour, you can also enjoy lunch with Happy Raft's famous homemade bagel sandwiches (currently only available for takeaway). So popular that some people come to Happy Raft just for the bagels! Come and try one!
Differences between the Oboke Family Rafting Tour and the Otoyo Family Rafting Tour
How do I choose? Recommended for...
Children from primary school age can participate

Adults and children want to play hard

Want to go down big rapids but don't want to fall in as much as possible
Course
A compact 4 km course with rapids starting upstream from the Long Tour.
Intensity
This is an authentic whitewater rafting experience for children from primary school age and above. This tour is very popular not only with adult groups who don't like water, but also with families with children of primary school age and above!
Duration
From the reception to the end of the tour, it takes about 3 hours. About 1.5 hours spent on the river, including rafting down rapids, diving from large rocks (free participation) and games using boats.
Conditions of participation, prices and other information on tours
Conditions of participation Primary school students and above.
*15 years old and younger must be accompanied by a parent or guardian.
※Minors must have a parent or guardian's signature on the participation agreement.
※Please bring proof of the child's age on the day of the event.
Price

Normal fee 7,000 yen (tax included)
High season fee 7,500 yen (tax included)
Obon season fee 8,000 yen (tax included)

※Repeater price: ¥500 discount from the above price! (Please bring your membership card on the day of the tour) (Please bring your membership card on the day of the tour) *Fees are the same for adults and children.
※ 2023 High season July 15,16,22,23,29,30 August 5~12,19,20,26,27 September 2,3,9,10,16,17,23,24 Obon season: August 13-15
Regular price: Any day other than the above
Payment methods
In order to ensure smooth reception on the day of your visit, we kindly ask you to pay in advance.

【Advance payment methods.】
①Bank transfer
②Credit card payment (MasterCard, VISA card) - Available for bookings made via the website.

【Payment on the day of the tour】
①PayPay
②Credit card payment (MasterCard, VISA card, Union Pay, JCB, American Express, Diners club, DISCOVER)
③Cash payment
 ※In the case of cash payment, the representative person should make the payment together.
Included in the tour price

Rafting guide fee (supported by a qualified professional river guide)
Rafting equipment (wetsuit, helmet, spray jacket, life jacket, fleece and paddle)

※During the cold season, you can wear wet suits in layers and wet socks are available.
※Boat charter available (additional fee required). If you wish to charter a boat, please contact us as soon as possible. We may not be able to meet your charter request depending on availability.
Tour dates
March - October
Number of participants
Minimum 1 person.
Meeting and dismissal times
Morning tours  9:15am - 12:30pm (29 Apr - 30 Sep), 9:45am - 1:00pm (1 Mar - 28 Apr and 1 Oct - 30 Oct)
Afternoon tour 1:15pm - 4:30pm
※Tour meeting times are subject to change due to weather and river conditions. Please note that the tour meeting time may be changed due to weather or river conditions.
※Disbanding time may vary by 30 minutes to an hour depending on river conditions, number of guests, etc.
Meeting/dismissal point
Meet and Dismiss at HappyRaft

Parking lot
At Happy Raft Base.
Free parking available
Parking for 40 cars or 4 large buses
Changing rooms
available, separate for men and women (no shower facilities, but you can take a dip in the outdoor hose).
What to bring and wear

Towels *Available for rental (300 yen) Available for sale (500 yen).
Swimwear (to wear under your wetsuit, underwear is also acceptable) *Not available for rent or sale. (If you are considering wearing a rash guard, please bring it along.)
Shoes that can get wet ... Athletic shoes or sandals with heels [Crocs are not permitted].
※Rental (300 yen per pair) available. (No need to book in advance, please ask at reception on the day).
Mask
Sunscreen (if necessary)
Strap if you wear glasses, or contacts (we can provide a strap if needed)
※May be damaged or lost.
 Disposables are recommended for contact wearers.

※Rafting equipment (wetsuits, helmets, spray jackets, life jackets, fleece and paddles) are provided by Happy Raft. If you have your own wetsuits, you may use them.
※In cold weather, wetsuits are layered to protect against the cold.

Photography and photo sales
We take photos and videos during the tour with a waterproof camera! When there are many boats, we also take photos from land with a telephoto camera. You can view them in a slideshow after the tour and purchase them for ¥1,000 per group if you wish.

【About the boat ride】
The boat will accommodate a maximum of 7 persons + 1 guide.
If there are children below 4th grade, the boat may be able to accommodate 8 guests.
If less than 6 guests are booked, they may share the boat with other guests.
Boat can be chartered (additional fee required).。 Depending on availability, we may not be able to meet charter requests. Please contact us as soon as possible if you wish to charter a boat.
We will contact you if there is a possibility of cancellation due to heavy rainfall caused by typhoons. In the event of normal rainfall, the tour will go ahead.
If there is a high possibility of cancellation due to a typhoon, we will contact you as early as 3 or 4 days before the tour.
We will also make a final confirmation call to everyone the day before the tour to inform them of the situation.
Depending on weather conditions and water levels, the course may be changed, the tour itself may be cancelled, or children may not be able to join the tour even if adults are able to join.
We will inform you as soon as we know, but there may be cases where we decide to cancel the tour on the day. Please be aware of this.
No one is allowed to participate in the tour if they are under the influence of alcohol or have a hangover on the day of the tour.
The above-mentioned persons will not be allowed to participate in the tour even if they arrive on the day of the tour. (In this case, a 100% cancellation fee will be charged. Please understand).
Please read more about tour cancellations here.
About the use of car navigation systems
If you are using a car navigation system, please search for Tosa Iwahara Station (JR Dosan Line).
Please note that if you search by phone number, address or Happy Laughts, you will be led to the old address of Happy Laughts or a diversion along a mountain road, which can lead to a number of problems.
Frequently asked questions
No. Although we take the utmost care to avoid this with small children on board (taking into account the amount of water and the way we descend), rafting is a natural sport and we cannot guarantee 100% safety. If you are concerned, we recommend the Otoyo Family Rafting Tour. This course has a much lower chance of capsizing or falling over.
Yes, there is! The size is about 1m to 4m (depending on the amount of water and other factors). It is free to participate, so you can decide after seeing the actual rock you will jump from. If you don't want to jump, watch and cheer on the jumpers from the boat!
Our guides will do their best to avoid scaring your child, and most of the time, children who were nervous at the beginning will finish with a smile on their faces. However, if they are too scared to have fun, we recommend the calmer Otoyo Family Rafting Tour. This is the perfect first experience for children who are scared or who are not very good in the water, as they can stay on the boat in peace.
9:15 (13:15※)※()Times in parentheses are for afternoon tours
Meeting/reception
Good job on the drive! When you arrive at Happy Raft Base, first feel the pleasant breeze in the great outdoors, looking out over the Yoshino River. After registration, sign the consent form and other necessary documents.
9:30 (13:30)
Briefing on the tour/start changing clothes.
Explanation of the day's general schedule and tour content. This is where the tension starts to build up for both the guests and the guides! Come on, let's go!
10:00 (14:00)
Move to the riverbank / safety briefing / practice at the trolling spot (calm current)
After everyone has changed, it's time to go. Bus transfer with a guide's hilarious talk, while suppressing your impatience. Safety briefing on arrival at the riverbank. Afterwards, we get into the boats and the team members/guides are introduced. Practice rowing and holding on to the boat.
10:30 (14:30)
Rushing rapids Start!
Total distance of 4 km including 4 large and violent rapids, with small rapids and calm areas in between the rapids. There are small rapids and calm areas in between the rapids, where you can jump in from boats or rocks, or play games using boats. Or just float around in the calm areas, looking up at the sky and not thinking. There are endless ways to have fun.
12:00 (16:00)
Goal.
After successfully clearing the last rapids, the red bridge near Happy Raft Base comes into view and you are almost at the finish line. Use your last bit of strength to jump off the boat! You can swim as hard as you like, or just float around and enjoy the afterglow. A one-minute walk uphill from the riverside will take you back to Happy Raft Base, where you can register and change your clothes.
12:30 (16:30)
Changing/viewing a slideshow of photos from the tour.
After returning to Happy Raft base and changing, we'll have a chance to look at today's photos. And don't forget to take a photo with all the friends you've met today! Free to disband.